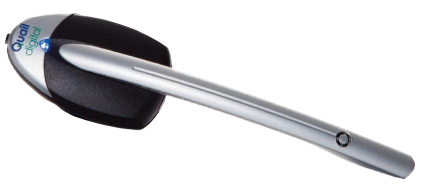 July 2018 – Santa Cruz, CA
Wake Forest University Baptist Health System has chosen the Quail Digital wireless headset solution from Data Distributing to enhance communication and teamwork for their many Cath & EP Labs.
Quail Digital, a medical partner of Data Distributing, develops wireless headsets that reduce the noise a patient endures in a typical intercom environment. Doctors and staff communicate more effectively, in and out of the lab. The patient experience is more relaxing because staff can speak in much quieter voices during procedures.
Wireless headsets also reduce the risk that the department might miss capturing costly supply charges due to poor communication and therefore a patient might not be billed correctly.
Communication Systems for Cardiac Cath and EP Labs
The Quail Digital Healthcare Headset System is a high quality, hands-free, lightweight, digital, wireless headset system for up to 30 clinicians and physicians at one time. The headset system, provided by Data Distributing, is comfortable and weighs just 1.76 oz and is extremely comfortable to wear. As healthcare technology and procedures evolve, the use of wireless headsets by clinical teams is becoming commonplace. Clear discrete audio communication between physicians and clinical staff in interventional Cardiac Cath and EP labs removes barriers to safer, more effective workflows and treatment.
For more information on how wireless headset technology can help your site: Visit the following link: https://datadistributing.com/wireless-headsets/
About Data Distributing
Founded in 1984, Data Distributing develops innovative, digital and DICOM solutions, along with integration and professional services, to a growing number of facilities, OEMs and channel partners worldwide. Headquartered in California, Data Distributing provides and supports solutions that are used by 1200+ medical sites.
Press Contact: Christopher Trujillo
800-635-6779