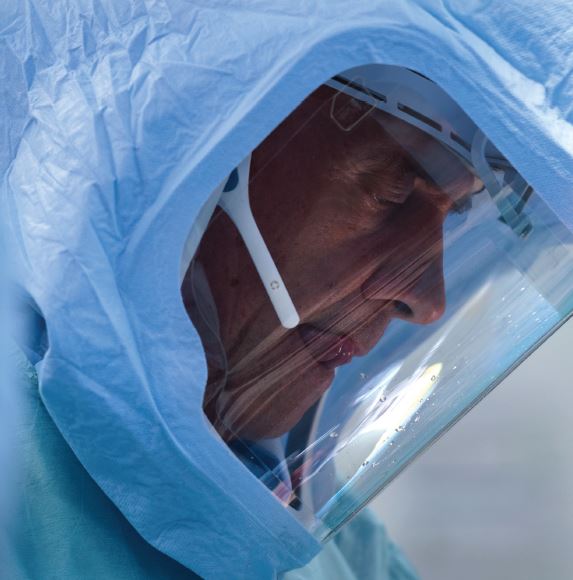 Healthcare Headset System
Quail Digital Healthcare Headset System is a lightweight, digital, wireless communications system for clinicians, physicians and assistants to talk hands-free as a team in the interventional OR or hybrid suite, at monitoring stations, through adjacent control rooms and ancillary areas. Wireless headsets promote greater attention to accuracy, reduce stress and foster collaboration within the team because communication becomes so much easier. Because it is so simple to use, license-free, and very easy to install, Quail Digital is used in Cardiac Cath Labs, EP Labs, Interventional Radiology, and Robotic Surgery.
Quail Digital Healthcare Brochure
Quail Headset Cleaning and Maintenance
Quail Digital – OR Leaflet
Quail Digital – OR Information
Broadcast feature for conference and training

Physician voice/dictation recording

Interference free
Up to 30 headset users

Headset weighs less than 1 ounce

Hands-free and push-to-talk
Quail Customer Testimonials
"…Had to choose between Carrot and Quail headsets for our EP lab. Carrot looked big and heavy versus the Quail. Trialed the Quail headsets and was impressed from the moment we put them on. They are extremely light weight and you don't even feel as if you have them on. The clarity is excellent. And the range is extremely good even in our lead lined labs. Reps that have come in  and used the Quail and really like them too.  Have been using them for a year now and have been extremely happy with our choice."
Bill Thornborrow – OSF Saint Anthony
"Communications in the EP lab have never been so easy; thanks our New Quail headset system.  They work so well, that we (temporarily) moved it to our Hybrid room to trial  a case there."
 John Gaffney – EP Supervisor at Waukesha Memorial Hospital
"I bought the Quail Digital wireless headset system from Data Distributing.  The whole process was seamless, from the sales rep to the customer service department. Data Distributing made me feel like a valued customer."
Jim – Cath Lab Manager 
"Simply put, I saved about $10,000 buying the Quail Digital wireless headset system and have a product that so far I am completely pleased with. I cannot believe how satisfied I am with the headsets. Our team wears them for every ablation and the headsets really have enhanced our workflow. They are clearly the bomb back in EP(electrophysiology). I just stopped by the department and it is a sea of blue lights. I can't imagine any facility wouldn't love these things… If my Neuro IR grows, I would think I would be up for another set. p.s. I actually mean everything I said, they are awesome!"
Rob – Cath Lab Manager 
Dedicated People. Great Customer Experiences…since 1984.
Your job is hard enough. Choosing and using IT solutions can be daunting.
Our job is to help you find the right vendor-neutral solution, at the right price…..and then make sure it performs.
Our Mission is that every part of your whole pre and post-sale experience be positive. You deserve personalized care: a supplier that knows you when you call in and tech support that doesn't stop until you're satisfied.
Data Distributing's culture is centered on Trust, Expertise, and Relationships.
We thank you, our Customers, for trusting us all these years.