From Any Source
Today's modern radiology, cardiology, oncology, endoscopy, surgery, and dermatology departments find it challenging to manage the wide array of patient data they generate and receive on a daily basis. They often must use several software products to complete tasks associated with patient data. Vertex enables medical professionals to efficiently access various file types within a single application. Medical data in a variety of formats – DICOM, HL7, image files, video files, office documents, paper documents, and film – can easily be integrated, edited, normalized, and shared to any destination. Vertex combines the best features of disparate medical data management products into one user-friendly software.
Take Data from Any of these Sources

DICOM and Proprietary DISCs
Import any CD, DVD, or Blu-Ray DISC containing DICOM data, as well as proprietary DISCs, into your PACS. The Vertex client can import multiple DISCs simultaneously.

Paper Scanners / Film Digitizers
Connect any TWAIN-conformant device, local or networked, to the Vertex workstation. Quickly scan documents using pre-configured Scan Profiles and edit with one click. Connect a VIDAR digitizer to the Vertex workstation for scanning of film. Quickly digitize film using pre-configured Scan Profiles and edit with one click.

PACS / VNA
Query / retrieve, and / or receive studies from any DICOM-conformant archive for processing within Vertex.

Non-DICOM Videos / Images / Documents
Convert any accessible video file to DICOM (MPEG4 or multi-frame) within Vertex, including .ASF, .3G2, .3GP, .3GP2, .WMV, .AVI, .M4V, .MOV, .MP4, .VOB (DVD). Drag-and-drop popular image files within Vertex to create new and / or add to existing studies, including .BMP, .TIF, .TIFF, .GIF, .PNG, .JPG, .JPEG, .JFIF, .JP2. Browse to local and networked files from within Vertex to access numerous office document formats, including .PDF, .DOCX, .DOTX, .DOCM, .DOTM, .DOC, .DOT, .HTM, .HTML, .RTF, .MHT, .MHTML, .XML, .TXT.

DICOM and HL7 Objects
Receive, query, and / or access standard medical image objects within Vertex for processing and sharing with a multitude of destinations.
To Any Destination
More than ever, healthcare institutions are required to distribute medical data to a multitude of recipients, such as patients, legal representatives, research facilities, and other healthcare institutions. Medical professionals often must use a range of delivery methods, from printed paper and PDF to DISCs, VPN, and cloud-based solutions. The need to train, support, and utilize multiple products to meet these data distribution requirements can pose a time-consuming and costly challenge to healthcare institutions. The answer to these challenges is Vertex. Vertex provides an affordable, single application that enables medical professionals to share data from a variety of sources to nearly any custom-configured destination using industry-standard and proprietary means. Vertex simplifies and facilitates the sharing of data, regardless of the receiver or delivery method.
Send Data to Any of these Destinations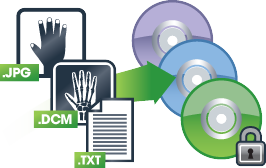 DICOM CD Burners
Burn studies to CD, DVD, and Blu-Ray DISC through Vertex's support of the industry's largest selection of autoloaders. Vertex embeds Sorna's intelligent, easy-to-use viewer on all DISCs automatically. Your existing hardware investment is protected when you switch to Vertex as your software of choice.

PACS / VNA
Send studies to any DICOM-conformant archive from within Vertex.
Vertex Local Store
Receive studies and respond to queries from any networked DICOM device, and store edited studies from any source that can be accessed for future reference and sharing.
The Cloud
Distribute medical data to other healthcare facilities through Vertex's connection with leading suppliers of cloud-sharing solutions.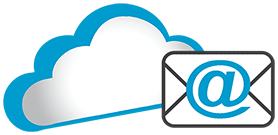 Vertex Share
Securely share medical data with patients and medical professionals.
Vertex's User-Friendly Interface Saves Time and Money
User training and operation of the numerous and complicated digital medical sharing products used by healthcare facilities can be time-consuming. Vertex's groundbreaking graphical user interface and all-encompassing architecture streamlines the user experience and accelerates training, saving bio-medical support teams' valuable time. Vertex was created with ease of use and flexibility of function in mind; radiology, cardiology, oncology, endoscopy, surgery, and dermatology departments can now accomplish all their medical data sharing tasks with a single application, from a Windows workstation or tablet.
Single Screen
Core user activity, job queue, and device status panels are strategically designed on a dynamic, single screen to aid the user in performing tasks while simultaneously monitoring jobs and systems. Vertex's dashboard-like interface features color schemes and icons that maximize readability.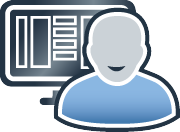 Intuitive Workflow
Within Vertex's interactive screen, users can select data from a multitude of sources on the left, optionally edit and enhance studies in the center, and send to a combination of destinations on the right. This left-to-right setup is natural for users, making the interface easy to use.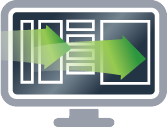 Drag-and-drop Functionality
Vertex's modern interface was designed for touch screen compatibility. Users can drag-and-drop data queried and / or selected from each source directly into a destination for immediate processing. Alternatively, users can drag-and-drop into the job build column to edit and / or merge data from DICOM and non-DICOM sources.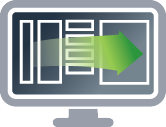 Viewing Capability
Vertex uses Sorna's popular Reviewer technology to display studies that are accessible from its workstation, allowing users to verify that study data and images match.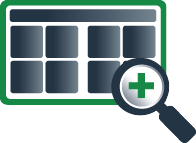 Job Queue
Each job's status is clearly visible in Vertex's job queue, with concise details accessible in a mouse-over popup panel. Users need only scroll from left to right in the queue to view previous jobs.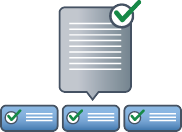 Device Status Bar
Each configured autoloader is represented in Vertex's device status bar, which displays: bin capacity, DISC type, and levels; ink color and levels; ribbon type and levels, and; online / offline status.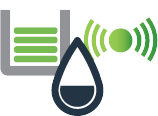 Dedicated People. Great Customer Experiences…since 1984.
Your job is hard enough. Choosing and using IT solutions can be daunting.
Our job is to help you find the right vendor-neutral solution, at the right price…..and then make sure it performs.
Our Mission is that every part of your whole pre and post-sale experience be positive. You deserve personalized care: a supplier that knows you when you call in and tech support that doesn't stop until you're satisfied.
Data Distributing's culture is centered on Trust, Expertise, and Relationships.
We thank you, our Customers, for trusting us all these years.